Since 2016 the BFC is among the very few money-change companies to be the owner of the main certifications concerning the provision of currency exchange services, issued by the international certification body CVI, and in particular:
CVI is a certification body of management systems operating at international level, accredited by SNAS, accreditation body recognized by IAF. CVI is also accredited IRACAB.
The certificates issued by CVI are therefore recognized internationally. The certification body uses, for auditing, personnel with considerable business experience in the various sectors of activity.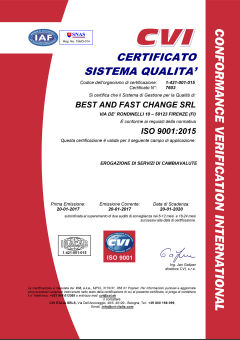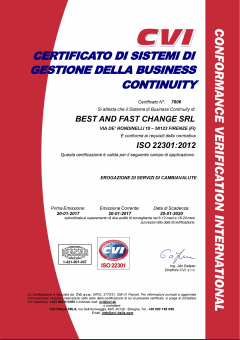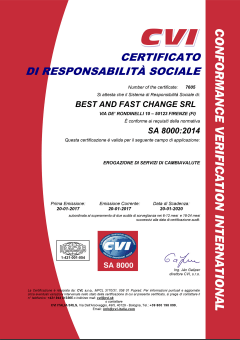 In general, all BFC services are provided by guaranteeing:
Full cooperation with the airport manager


the company promotes the sharing of decisions and strategies in order to offer maximum profitability and, at the same time, ensures total customer satisfaction.

The utmost professionalism and correctness


the service is managed through standard procedures and management models that allow constant monitoring of quality and efficiency.
A high level of computerization of processes
the company has internally developed its own software for the management of the exchange activity that guarantees security, speed and flexibility.
Respect for legality
through the use of internal control procedures, as well as through maximum collaboration with the supervisory bodies, in particular with the Bank of Italy and the OAM.
Through company procedures, BFC personnel ensures compliance with anti-money laundering, terrorism financing and work health and safety.
Effective management of after-sales activities
the company offers, in compliance with national and European regulations, a Customer Care office at its headquarters and an e-mail account to collect any reports and comments from customers.
In addition, BFC is studying the activation of its own toll-free number to be even closer to the needs of its customers.